Estate Fencing
Quality Estate Fencing to add value to your Land Development
Estate Fencing
Quality Estate Fencing to add value to your Land Development
Surround a New or Existing Project or Development With Durable Acoustic Fencing Designed to Look Like a Block Wall.
An ideal solution for developers seeking an economical fencing option around a new or existing project or development.
Poly-Tek have 5 Fence designs suited to perimeter fencing for land estates and townhouse/home developments.
FlameWave™ is a prefinished, wave profiled Acoustic and Non-Combustible entry level estate fence option.
FlameTek™ is a Non-Combustible, Acoustic, 'Timber Look' fence design and is used to surround the very popular Avid Harmony estate at Palmview.
EstateTek and RenderSmart are modern fence styles designed to emulate the appearance of a block wall fence and can be seen on land developments by Stockland, Sekisui, Turrisi Properties, Aveo, Amex Corporation to name a few. Both these fences have the added benefit of being Acoustic in nature.
MetecnoBarrier™ is our heavy duty, Government Approved Noise Fence and this fence type is suitable for housing estates and projects on TMR state controlled roads or QR Rail lines.
Products
Choose from the following product options:
RenderSmart
Suited for all types of estate developments
Excellent noise-reduction around busy roads or high traffic thoroughfares
Rendered Option available which also acts as a waterproofing membrane for added durability and retaining wall use (up to 1 metre)
EstateTek
Streamline & Economical estate fencing solution
Render ready – comes as an uncoated finish
Can be affixed with a special bracket to sit on top of retaining walls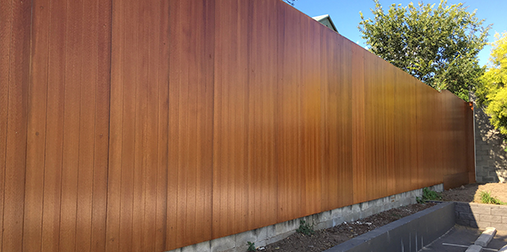 FlameTek™
BAL FZ (Bushfire Attack Level Flame Zone) rating – the most extreme rating for building design and construction
Acoustic sound barrier properties for reducing noise effectively.
High impact resistance and non-combustible
Dimensionally stable and does not warp
Moisture, mould & termite resistant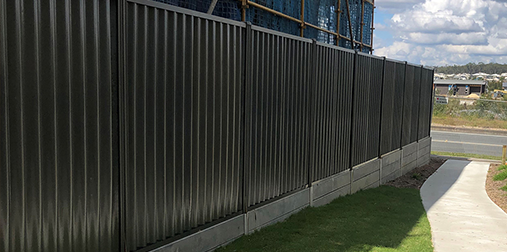 FlameWave™
A more entry level price point for your estate fencing needs
Non-Combustible
Features an attractive 'wave' profile and comes Prefinished in Woodland Grey
Acoustic at 15kgs m2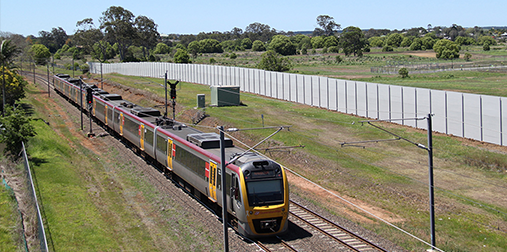 MetecnoBarrier™
The most robust and heavy duty fence option Poly-Tek manufactures
Government approved by TMR and Queensland Rail
Extreme Impact Resistance, Fire Rated, Acoustic
Concrete panel appearance but much lighter and more cost effective
Easy to install in Universal Beams
Cost-effective Australian
Building Products
Our pre-rendered building products and modular acoustic fencing for residential and commercial areas can help you save on costs and complete projects faster.