Noise Barriers
Heavy Duty, Government Approved Noise Barriers suitable for all civil and infrastructure projects.
Noise Barriers
Heavy Duty, Government Approved Noise Barriers suitable for all civil and infrastructure projects.
Robust Noise Barrier Panels designed to withstand high impact & vandalism resistance, excellent acoustic attenuation, fire resistance and a 40 Year design life.
Our national urban sprawl is resulting in substantially more environmental and traffic noise particularly for dwelling on or near main roads, highways and rail lines.
Noise Barriers or sound walls provide a functional and effective barrier to greatly reduce this noise.
Poly-Tek Noise Barriers, MetecnoBarrier™, have been designed and developed to meet or exceed Government (TMR & QR) requirements for noise fence products for use on state controlled roads, highways or railway lines.
Designed for extreme conditions and featuring high impact and vandal resistance, noise reduction properties, a concrete like appearance but far lighter and easier to handle, fire resistance and economy MetecnoBarrier™ Panels are the logical choice for large civil and infrastructure works.
Manufactured in our ISO9001 plant in Brisbane and able to be pre-painted our Noise Barrier fencing is ideal for difficult to access sites
For civil land developments not on a state controlled road or rail line RenderSmart Panels are suitable for use.
We have a noise barrier solution to suit any project type.
RenderSmart
Easy to install and cost effective
Provides a block wall look at a fraction of the price
Locally manufactured to highest quality standards
Excellent acoustic properties to reduce traffic noise
Simple and easy to maintain and will last for years to come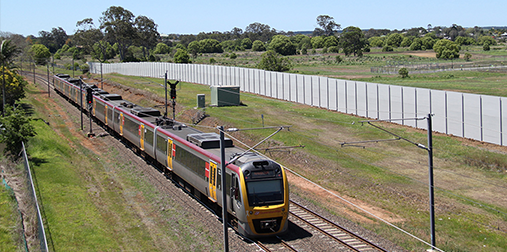 MetecnoBarrier™
Heavy duty with a 40 year design life
Government Approved for use on state controlled roads and rail lines
Impact, Vandal and Fire Resistant
Superior Noise Reduction benefits
Lightweight so suitable large volume product transportation and installation on bridges and overpasses
Cost-effective Australian
Building Products
Our pre-rendered building products and modular acoustic fencing for residential and commercial areas can help you save on costs and complete projects faster.